Big Green Egg – Customer Experience
---
Big Green Egg - Customer Experience "I've never had a more succulent brisket; my husband loved it!"
Big Green Egg – Customer Experience Oklahoma Joe's – Customer Experience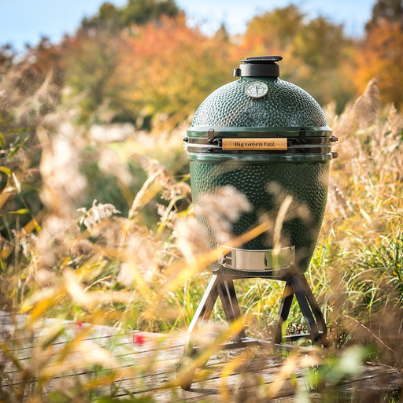 Customer Experience
As my husband's 50th approached, I was at a loss as to what to gift this BBQ maniac, I thought he had everything.  I decided to call into Woodpecker in Oakleigh to have a browse. As I made my way into their outdoor range section I saw a something I've never seen before, The Big Green Egg. The friendly staff gave me a full run down on these units. Not only do they grill and smoke, but they also bake! Now I was excited to use it too. The staff showed me the easy-to-use temperature gauge, and an easy way to clean the grill chemical free.
So, I decided on the Large Egg, as it's the right size for our small family, but also could bake a nice sized pizza for more than just us. A staff member helping me noticed the bewilderment in my eyes as I looked at the wide range of accessories, nests, tables and racks ect…..again, Woodpecker to the rescue! They sell a bundle which includes the egg, the nest and handler it sits on, a pizza and baking stone, convEGGtor basket, their own amazing lump charcoal, starters and an ash scraping tool. Everything you need for the first big cookout. It literally took all the guess work out of what I would need. It was too easy.
Needless to say, my husband loved it! I've never had a more succulent brisket, as the low temperature cooking and the lump charcoal were the best combination I've ever tasted. Now being an Egg-spert- I HAD to get the Big Green Egg bible, the cookbook! Believe it or not I made my husband's birthday ice cream cake on the egg ( page 144 !!)
Thank you Woodpecker and Big Green Egg!
About The BBQ
The Big Green Egg is a barbeque, a smoker, a traditional oven and a pizza oven fuelled by pure, 100% natural lump charcoal.  With its easy-to-use design, high-spec ceramics and four different cooking modes, the Big Green Egg has been revolutionising the BBQ market since 1974.  From pizza to paella, or steak to seafood, the EGG enables you to grill, roast, bake and smoke like a professional, all year round and in every type of weather. Combining proprietary processes and patented technology, the Big Green Egg is stronger, more durable and better insulated than any other outdoor cooker in the market. That's why Big Green Egg is the leader in outdoor cookers and is used by hundreds of award winning chefs all over the globe.
The Big Green Egg is made from best-in-class ceramics that possess unrivalled thermal properties. The ceramic composition of the EGG makes it number one for fuel efficiency, heat retention and cooking performance. The EGG is made in Mexico using the same state-of-the-art production processes developed by NASA to produce heat shields for their shuttle program. Big Green Egg ceramic has performed flawlessly in extreme conditions for decades. It can be used all year round, in all parts of the world, by Michelin star chefs, BBQ enthusiasts and home cooks alike. In fact the EGG is valued so highly today, that it continues to be handed down from one generation to the next.
Unlike tradition gas grills that use gas and are made from metal, the Big Green Egg is fuelled by natural lump charcoal and made from shuttle-quality ceramic that retains heat and moisture better than any other cooking unit today. And with the EGG, cooking takes place with the lid down so that heat, moisture and flavour is preserved to perfection. Temperature and smoke quantity in the Big Green Egg is controlled by a patented air flow system. The Draft Door and the Dual Function Metal Top act as vents that regulate the amount of air flowing in and out of the EGG. Put simply, the Draft Door determines the range of temperature (particularly the upper limit), where as the Dual Function Metal Top is used for achieving finer adjustments to within a degree.
Exceptional Design
Patented components and state-of the-art ceramic technologies have produced unrivalled insulation, thermal shock tolerance and material strength. The high-quality ceramic was initially developed by NASA for their rocket heat-shields. The EGG's durability, quality and sleek design are so admired that many EGGs are passed down from one generation to the next due. For additional peace of mind, the Big Green Egg comes with a Best-In-Class, limited lifetime warranty.
Versatility
Throw out all your old BBQs! With the Big Green Egg you can Grill, Roast, Smoke and Bake. It is easy to master searing steaks and burgers, roasting legs of lamb, slow cooking ribs and baking pizzas and breads. You can cook everything on the one Big Green Egg.
Simple to Start
The Big Green Egg reaches cooking temperature and is ready to use in just minutes. Big Green Egg brand natural lump charcoal is made in the USA from oak and hickory for superb performance and results. Lighting the charcoal is quick and easy, as the design of the Big Green Egg allows air flow to work like a fireplace. Use a natural charcoal starter or an electric starter; and never buy lighter fluid again!
Precise Temperature Control
By simply adjusting the patented air flow controls, you can reach and maintain desired temperatures to within a few degrees! Due to the EGG's world class ceramic composition and design, outside temperatures won't affect temperatures inside the EGG so you can use it all year around.
Safer to Use
The Big Green Egg is extremely safe to use because the ceramic surface doesn't get as hot as a metal grill, and the heat source is protected within a ceramic fire box inside the base.
Easy Clean Up
The Big Green Egg features a stainless steel cooking grid and an elegant green exterior with a lifetime glaze that maintains its good looks and wipes clean easily without chemical cleaners. Just like a self-cleaning oven, residual heat burns away any grease build-up inside the EGG.
To view Woodpecker's full range of Big Green Egg BBQ products, visit our Mornington or Oakleigh Showrooms. Our team provides fantastic design, installation and product advice!