FIND YOUR PERFECT HEATING SOLUTION
---
All your heating solutions in one place! Time to shop at Woodpecker with our extensive range of heating solutions.
IT'S TIME TO FIND YOUR PERFECT HEATING SOLUTION!
All your heating solutions in one place! With those cold days really settling in, down in Melbourne, many of you are sure to be rugged up, just trying to stay warm. Well now is the time to shop at Woodpecker with our extensive range of heating solutions. We are sure you will find the perfect solution with us! From outdoor fireplaces, firepits, gas and wood fireplaces, split-systems, ducted heating, hydronic fireplaces, electric fireplaces, bioethanol fireplaces and electric panels; we are your one-stop shop for all heating solutions. 
Outdoor Fireplaces & Firepits
Our outdoor fireplaces will dress up your outdoor entertaining or alfresco area with either a wood or gas fireplace. Don't have a wall to put it on? No worries, with double sided fireplaces and freestanding fire tables to choose from. You'll loving entertaining in the backyard this season. If an outdoor fireplace isn't your style, why not check out our range of fire pits. Sit back and enjoy the warmth and natural beauty of an open fire in your backyard and buy a beautiful fire pit you'll enjoy for years!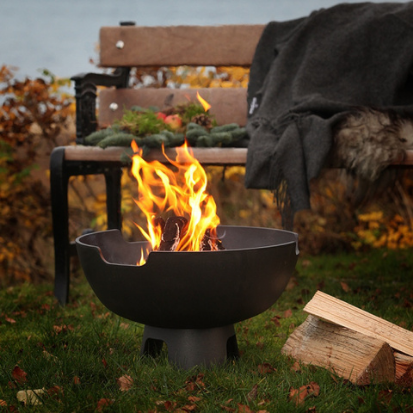 Gas & Wood Fireplaces
Woodpecker's range of gas fireplaces will create a focal point in any room, as well as providing warmth. Even if you have other heating in your home, a gas fire can be used to complement this heating source. There are primarily two different types of gas fires; open gas and glass fronted. Both types are available in freestanding, inbuilt or double sided varieties, depending on the look you are after. While our wood heaters give you the option to live off the grid.
Wood heating is one of the few sustainable heat sources available. Our fireboxes come in a variety of sizes, depending on the area you wish to heat or whether it will be your main heating source. The best wood heater for you depends on your situation, requirements and preferences. They come in both freestanding and inbuilt options. An inbuilt unit can be for an existing fireplace (making it more efficient and cheaper) or for a new construction (zero clearance box). You can also get double sided heaters! Did you know we also stock  Australia's largest double sided inbuilt wood heater, with an unbelievable see-through 1.7m glass viewing area. 
Ducted Heating & Split Systems
If you have ever thought about ducted heating, now is the time to invest. A gas ducted heating system can be situated in either your roof or under your floor (depending on available space for the system). As the name suggests, it uses gas to produce heat which is then distributed through your home. Gas ducted heating is a great system to keep your electricity bills low and keep your home warm during those freezing Melbourne winter months.
The other option many of our customers choose to opt for are split-systems, which offer both heating and cooling. Split system units are used primarily to condition the air in a single room. They provide heating and cooling using a refrigerant gas which is transferred from an indoor unit, to an outdoor condenser (hence the term split system) . You can choose from discreet wall mounted models, compact floor consoles or ceiling units. Installation space and costs can also be reduced by connecting multiple indoor units to the one outdoor condenser (multi systems). 
Hydronic & Bioethanol Fireplaces
Why not try something new and explore our range of hydronic heating options. Hydronic heating is considered to be one of the most pleasant and natural ways to heat your home. They operate through recirculating water from a boiler into radiators, skirting board convectors, underfloor pipes and are powered by natural gas, LPG or solid fuel. They are safe to touch, don't create dust, are silent and one of the most reliable heating sources.
Another option available to you is bioethanol units. Bioethanol is a biofuel derived from plants including corn, wheat, barley and sugarcane. Bioethanol is a renewable energy source, with no odour and no harmful emissions. It creates a vibrant clean-burning flame with no harmful effects on the environment or the people using it.
Electric Fireplaces & Electric Panels
Electric fireplaces are an electric heater that mimics a fireplace burning coals, wood or pebbles. They are primarily used for decorative purposes. Becoming popular for apartment living as in most cases all you have to do is plug in the electric fireplace into a wall. It is recommended to have a primary source of heating besides your electric fireplace, as it should only be used for ambience and not a main source of heating. On the other hand we also offer electric panels. Portable electric heaters provide a quick and effective way for heating rooms and may be the easiest way of warming areas of the home not reached by central heating. They can be mounted on the wall or put on castors, making it easy to wheel around the home.
Woodpecker has two massive showrooms – in Mornington and Oakleigh East – and all customers are guaranteed to find what they are looking for. With over 25 years experience in the industry, Woodpecker's expert sales team are the perfect choice to help you find your perfect heating solution. And don't forget our expert installations and service teams who can help carry out the project and take care of all your heating maintenance for years to come!
Check out our extensive range of heating solutions and find yours today!