Oklahoma Joe's Smoked Pulled Pork Sliders
---
Bring a slice of the USA to your plate this weekend with Oklahoma Joe's Smoked Pulled Pork Sliders!
Oklahoma Joe's Smoked Pulled Pork Sliders
Bring a slice of the USA to your plate this weekend with Oklahoma Joe's Smoked Pulled Pork Sliders! An American classic, smoked pulled pork sandwiches are a favourite for most people because they're tender, juicy and delicious.
Serves: 6 People
Cooking Time: 9 hours
Preparation Time: 15 minutes
Skill Level: Easy
INGREDIENTS
Pork
3.6 – 4.5 kg pork shoulder
handful oak and apple wood chunks
¾ cup apple cider vinegar
¾ cup apple juice
sandwich buns
your favourite coleslaw
your favourite barbecue sauce
Classic Barbecue Rub
3 tablespoons hot paprika
3 tablespoons brown sugar
1½ tablespoons salt
1 tablespoon onion powder
1 tablespoon chilli powder
1 tablespoon black pepper
1 teaspoon white pepper
1 teaspoon mustard powder
Sweet & Tangy Finishing Sauce
2 cups apple cider vinegar
1¼ cup dark brown sugar
1 cup water
2 tablespoons tomato paste
1 tablespoon red pepper flakes
2 teaspoons salt
2 teaspoons black pepper
1 teaspoon garlic powder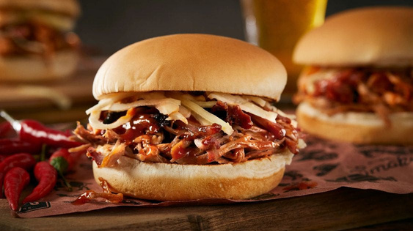 PREPARATION
1. Preheat your smoker to 115°C.
2. Combine all rub ingredients in a bowl and mix with your fingers to break up any lumps.
3. Apply a generous amount of the rub on all sides of the pork shoulder.
4. Place the pork shoulder in your smoker with 5 to 6 wood chunks on top of hot coals. Cook until the deepest section of the meat reaches an internal temperature of 95°C, or about 8 ½ hours.
HOT TIP–Use an instant read thermometer to determine the internal temperature of the pork.
5. Spray or mop the shoulder while cooking with an equal blend of apple cider vinegar and apple juice. Do this every hour to keep the meat moist.
6. While the pork is cooking, mix all sauce ingredients in a saucepan and simmer for 5 minutes.
7. Once the pork shoulder has reached its targeted temperature, remove from your smoker and place in a large aluminium drip pan. Cover with aluminium foil and let rest for 1 hour.
8. Using our American Meat Claws or our Disposable BBQ Gloves, shred the pork shoulder and discard any bones or sizable chunks of fat. Once fully shredded, pour the finishing sauce over the meat.
9. Assemble the sandwiches with buns, coleslaw and your favourite barbecue sauce.
For more information on Oklahoma Joe's BBQ's, contact us or visit our Woodpecker Heating & Cooling Showrooms in Mornington and Oakleigh East. Can't make it down to our showrooms? Arrange a virtual consultation with one of our sales representatives here.