UP T0 $695 OFF HEAT & GLO I30X GAS LOG FIREPLACES
DON'T MISS OUT ON MASSIVE PRE-WINTER SAVINGS
- GET OFFER -
UP T0 $695 OFF HEAT & GLO I30X GAS LOG FIREPLACES
Melbourne is cooling down and so is your home, make sure your family is kept nice and toasty this Winter with a Heat & GLo i30x gas log fireplace! With up to $695 off all Heat & Glo i30x units, there's not better time to prepare for the cold months ahead! Don't miss out on this fantastic offer, talk to Woodpecker's team of experts today!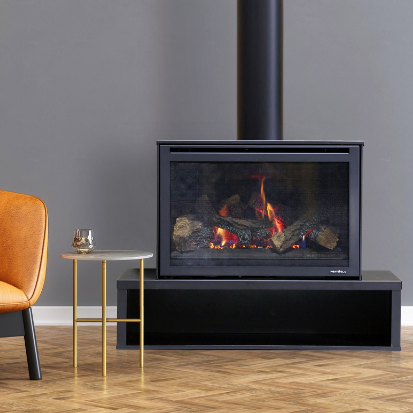 Now is the perfect time to spruce up your living space with up to $695 off Heat & Glo i30x Gas Log Fireplaces!
The Heat & Glo i30X Freestanding is now available in a space saving freestanding design, with 2 base options to choose from! The i30X firebox is enclosed in a minimalistic mild steel casing designed to give less frame and more flame. The matching flue and casing feature a powdercoated finish that allows worry free cleaning.
The freestanding i30X Linear or Stretch pedestal bases have modern design in mind with clean lines and an elevated view of the fire and beautifully crafted high definition logs. Designed from the chassis of the Zero Clearance model, the freestanding i30X can be installed onto practically any surface giving you the freedom to design it your way.
A large viewing area due to flush hearth technology and smaller frame showcase flickering flames on superior, higher definition logs. The whisper quiet, high volume fan guarantees a wide range of heat output warming for maximum comfort. A choice of interior options include two brick refractory designs, black glass or standard black, which can be dramatically enhanced with the accent lighting feature.
Since 1979, Jetmaster Heat & Glo has been the market leader in fireplace technology and design, offering inbuilt, single and double-sided fireplaces as well as freestanding units along with a variety of installation options. A fireplace from Jetmaster Heat & Glo adds immediate value to a home, their products are not only the most well known in the industry but are also the preferred choice of builders and homeowners alike!
Love the Heat & Glo i30x? Check out the entire Heat & Glo range here.
T&C's: Offer includes free standard flue kit on all Heat & Goo i30x units, saving of up to $695. Offer does not include installation or any accessories. Offer not available in conjunction with any other offer. Unit payment must be made in full upfront before 31/05/2021. Offer valid from 01/05/2021 until 31/05/2021, or until stocks last. E&OE.
UP T0 $695 OFF HEAT & GLO I30X GAS LOG FIREPLACES
Enquiry form
Fields marked with a * are required
X