How to Choose Between a Wood, Gas, Pellet or Electric Fireplace
---
There is nothing quite as nostalgic and romantic as a fireplace addition to your home.
When you are ready to add a fireplace to your home, there are a couple of decisions you'll need to consider to make sure you make the right choice for your home and for your needs.
Here are 4 essential tips on choosing a fireplace.
The Main Purpose
The first decision you must make is, what is the main purpose and use of your fireplace? Are you intending for it to be a primary heating source for a common room, such as a living area or outdoor entertaining space? Or are you intending for the fireplace to be a beautiful addition for your home's aesthetic? Or is your fireplace designed for cooking, such as a grill or pizza oven? Understanding exactly what you require is the first step to finding the right fireplace.
Wood, Gas, Pellet or Electric?
Different types of fireplaces utilise different types of fuel or power.
Wood Heaters

Wood heaters are fuelled by wood and give you a feeling of core heat with the ability to heat from 2 to 35 building squares.
Some wood heaters are purely radiant models, and so will radiate the heat out at a steady rate and others have a fan to push the heat out faster. Fireboxes come in a variety of sizes, depending on the area you wish to heat or whether it will be your main heating source.
A good quality wood heater used efficiently and well maintained, can last around 20-30 years. With advances in technology, they are now not only more efficient than ever, but also more stylish in design.
The best wood heater for you depends on your situation, requirements and preferences. They come in both freestanding and inbuilt options. An inbuilt unit can be for an existing fireplace (making it more efficient and cheaper) or for a new construction (zero clearance box). You can also get double-sided heaters
Gas fireplaces

Gas Fireplaces are a 'mess-free' option that not only heat but also obtain the visual ambience of a wood-burning fire. The effect and heat is almost instant, with the ability to heat from 2-14 building squares. If you have a heater with a high heating output and low mega joule consumption, the unit will be efficient to run. Some gas fireplaces even have ducting so that you can easily heat the other rooms in the home.
It's important to understand that gas fireplaces are used as a secondary heat source with another form as a back up, but many are designed to at least heat individual rooms. In essence, gas fireplaces can create a focal point in any room, as well as providing warmth. Even if you have other heating like central heating, a gas fireplace can be used to complement this heating source.
There are primarily two different types of gas fires – open gas and glass fronted – and both are available in freestanding, inbuilt and double-sided varieties.
Electric fireplaces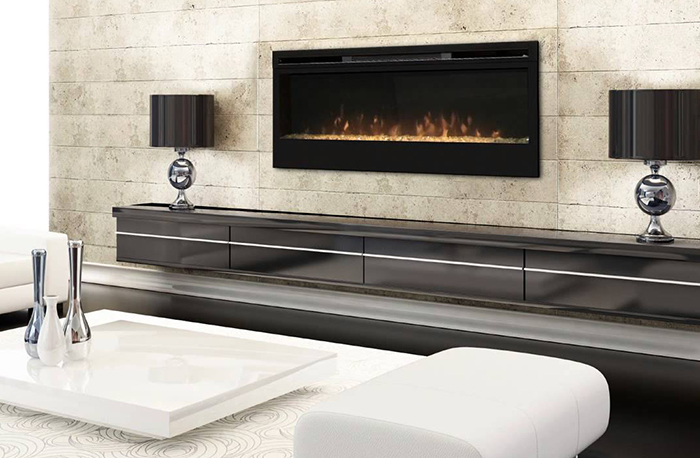 Electric Fireplaces mimic a fireplace burning coals, wood or pebbles and are primarily used for decorative purposes, not heating.
The benefit of these fireplaces is that they require no flueing and can be floor standing or wall mounted. They are great in units or townhouses where sharing walls, body corporate or other issues make flueing a difficult option.
Pellet fireplaces
Pellet fireplaces can reduce heating bills and because they use renewable fuels, they have a low impact on the environment.
Derived from the milling of plantation timber, pellets are the cleanest-burning biomass fuel available. Featuring simple technology, these freestanding stoves are easy to operate and maintain and provide clean and efficient heat
Open or Enclosed
An open fireplace (available in wood or gas) is more visual, with some supplementary heating. There is flexibility in terms of sizes and style; however the running costs are greater for both wood and gas burning fireplaces. A glass fronted fire is generally a lot more efficient and effective, with a higher heat output and lower running costs. Another benefit is safety, as there is no exposed flame.
Inbuilt or Freestanding
An inbuilt fireplace is built into a wall in your home, whether it be an existing chimney or purpose built wall. A freestanding fireplace either stands on its own, either near a wall or in the middle of a room.
The main difference between the two varieties (beyond their visual appearance) is the cost for installation. Adding an inbuilt fireplace to your home will generally cost more than a freestanding fireplace as the existing area must be prepared and finished in accordance with the home's existing décor.
Contact the Fireplace Experts Today
Woodpecker is the expert on supplying, designing, and installing fireplaces. We have a full range of gas, electric, or traditional wood burning fireplaces in an array of pleasing designs. With two store locations in the greater Melbourne area, our team will provide you all the answers and advice you need on choosing the right fireplace at the right price.
Contact the team at Woodpecker today for more information.