The Weber Pulse Is Here! Reset Your Expectations Today
---
When does food intertwine with technology? When it's cooked on Weber's revolutionary electric barbecue, the Pulse.
Let's go back in time to 1971, Weber just introduced their first gas grill barbecue to the Weber range. Weber barbecue lovers everywhere jumped with joy, they jumped even higher after they experienced the amazing flavours this new grill creates.
Well now it's 2018 and Weber lovers are jumping with joy once again with the release of the new electrifying Weber PULSE barbecue!
Weber spoilt us with charcoal barbecues, gas barbecues, and now we have Weber's new revolutionary electric barbecues. Introducing… The Weber Pulse!
The Weber Pulse will make you reset your barbecuing expectations. It's not any ordinary electric barbecue, or electric fry pan like many other products on today's market.
Imagine this, you live in a small compact apartment with an even smaller balcony but you long for the classic Weber flavours? Yes, you can fit in a Weber Q in to your ant size balcony, but is there even enough room for a gas bottle?
In comes the new Weber Pulse! Say goodbye to just dreaming of Weber closed lid flavours, and start barbecuing up your own, even on your tiny balcony. Without the need of a giant, heavy gas bottle!
Weber's new electric barbecue range fuses everything you need from a traditional barbecue, with the simplicity and convenience of electrical power. All of these features, without compromising the delicious Weber flavour either!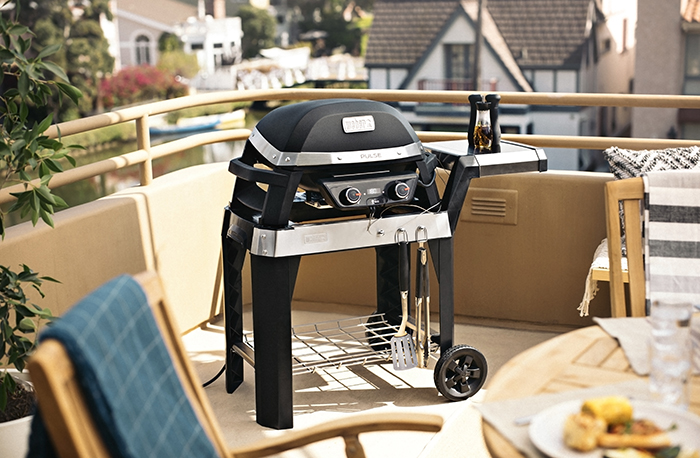 Let's get in to the nitty gritty details of this revolutionary Weber Pulse barbecue!
This revolutionary barbecue is integrated wih Weber's iGrill smart technology. That means you can measure the grill temperature, and track the progress of your food as it cooks to perfection through the iGrill app on your smart app. In other words, the new Weber Pulse barbecue will literally tell you when your food is cooked just the way you like it! My oh my, how snazzy?
With porcelain coated cast iron cooking grills and the power to cook at temperatures up to 300°, the Weber Pulse imparts a beautiful flavour as the smoke circulates within the lid. This results in the delicious Weber flavour you've been craving!
The Weber Pulse is built with two heat zones, giving you the flexibility to split your cooking area. Imagine, steaks searing on high heat on one side, and delicious side dishes cooking away on the other side on a low heat. This means a perfect meal, cooked on one barbecue… at the same time!
Feeling hungry? Ready to switch on the flavour with the new Pulse? Then Click here to grab a Pulse for yourself, today!