From Kettle to Q – The game changers of the BBQ world!
---
As Eames is to furniture, Weber is to Barbeques. Whenever that iconic silhouette of the Weber Charcoal Kettle is seen not only is it instantly recognized, but other nostalgic images, feelings and emotions are stirred.
The Weber kettle. The most legendary Aussie icon in BBQ history! I've had the privilege of speaking to many barbecue enthusiasts over the years and remarkably, the most common thing they say is, "I've had my Weber kettle for about 25 years and it's still going strong" or "my dad gave me his, it was given to him by his father". Imagine that! Incredible isn't it? But it's not just in the durability of this ever so popular family heirloom that makes people rave on about it. Weber is synonymous for creating mouth-watering flavours the family will love. Steaks, for example, are cooked directly over real coals (not lava or ceramic rock) with the lid covering them. Natural convection cooking makes them the juiciest steaks you'll ever taste. The smoke from the coals creates a barbecue flavour that is unmatchable. Indirect cooking when roasting also means you'll get succulent roasts, whilst also allowing the fats to drain away meaning a much healthier, fat free meal. From succulent roasts, juicy steaks, crispy pork crackling and tender lamb chops, it's no wonder why this little beauty is an Aussie family favourite!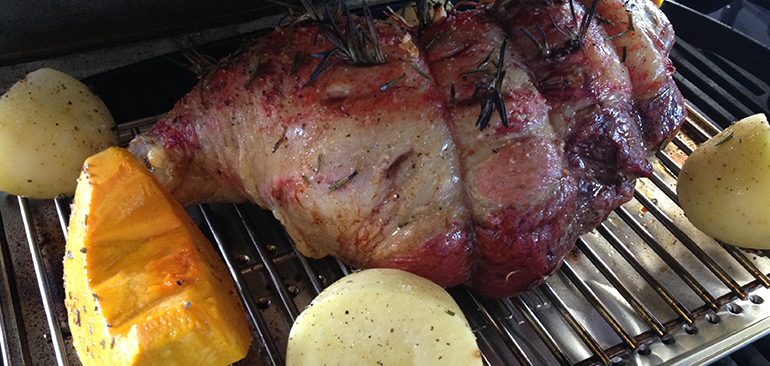 And if you don't already know about their latest innovation, let me introduce you to the most wanted and sort out barbecue of our time, the increasingly popular Weber Q! From the master chefs of the barbecue world to those just starting out, you won't believe the unmatchable flavours, practicality and ease of use of this barbecue lover's dream. The Q shape design of the stainless steel burner ensures no cold spots on the barbecue, meaning that you can cook right to the edge and get the same heat distribution all the way around.
The body and hood are cast aluminium that reflects and retains heat, making the barbecue more efficient. Best of all, with Webers infamous lid down cooking system, the smoke is trapped inside the lid and therefore goes back into your food, creating the best smoky flavour, without the need of a charcoal barbecue! The dome design of the Weber Q means cleaning is simple. All cooking fats end up in the drip pan below, eliminating the need for any barbecue soakers which can be a real hassle when it comes to cleaning. Cooking with the lid down also limits the fat splatter and mess. But don't be fooled by its cute and compact size, this little stunner has the perfect cooking and baking system. Cooking anything from turkey roasts, to the best pizzas and sticky date puddings you'll ever have! The Weber 'Q' does it all! Compact, versatile, great for both barbequing and roasting. Stylish and tough, and best of all, built to last like all of Weber's products – time has definitely been their testament!
Oh and one last thing!
If you have already seen the latest Weber ads on TV, the paper, the internet, heard them on the radio, or perhaps can't stop your friends and family members from raving on about theirs, you'll know there are three Weber Q models right?
Wrong!!
There are actually six models. So if you are thinking of buying one of these iconic Weber Q's you should check them ALL out.
To do that you need to go to a Weber SPECIALIST dealer like Woodpecker. They can explain ALL the differences between the various models, so you can choose the one that's right for you. Whether you choose to create the original smoky flavour on a Weber charcoal kettle or go camping and caravanning with a Weber Q, when you buy a Weber, you join the Weber family. This year Weber was voted Australia's most trusted brand of barbecue and their barbecues are ranked in the top three of Choice magazine. You know you're not sacrificing on quality with a Weber. You only have to taste one steak cooked inside a Weber to know that steaks cooked on ordinary barbecues are just that … ordinary.