Grilled Rack of Lamb Recipe
---
Get some delicious food on the table for your family this winter, with this grilled rack of lamp recipe for your Big Green Egg BBQ.
Grilled Rack of Lamb Recipe
As the weather starts to cool down, you might be starting think about putting away your Big Green Egg BBQ. Stop right there! Check out this delicious grilled rack of lamb recipe, sure to keep you and your family warm and toasty and that BBQ fired up and working into those cold winter months. This tender rack of lamb marinated in fresh rosemary, thyme and garlic. Sealed briefly on either side of the Big Green Egg and leave to cook until a core temperature of 50°C has been reached for a medium-rare result.
Ingredients
2 racks of lamb
½ bunch of rosemary
½ bunch of thyme
6 cloves of garlic
mustard
sea salt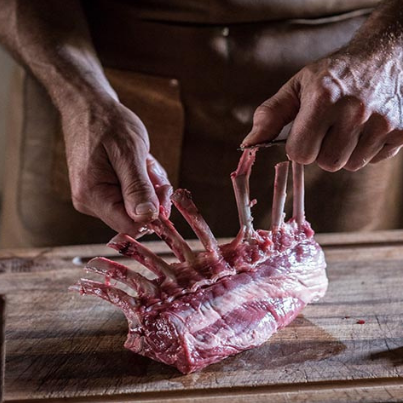 Method
Ignite the charcoal in the Big Green Egg and heat, with the

Cast Iron Grid, to a temperature of 180°C.
Remove any skin from the racks of lamb and scrape the ribs clean with a small knife, if necessary (or have the butcher do this). Remove the needles from the rosemary and the leaves from the thyme and chop finely. Peel the garlic, finely chop the cloves and mix to taste with the sea salt and the herbs.
Cover the meat with a layer of mustard. Sprinkle the herb mixture on a cutting board and press the meat of the racks softly into the mixture, ensuring an even coating.
Place the racks of lamb on the grill, meat side down, close the lid of the EGG and grill for about 2 minutes. Turn the racks of lamb a quarter of a turn and continue to grill for another 2 minutes.
Now flip the racks of lamb and insert the

dual probe remote thermometer

into the centre of the meat. Set the thermometer to 50°C for a medium-rare result. Leave the racks of lamb to cook for approximately 14 to 16 minutes until the set core temperature has been reached.
Remove the racks of lamb from the EGG. Cover loosely with aluminium foil and leave to rest for 5 minutes before cutting the meat.
Want to try this recipe in your home? Check out our full range of Big Green Egg BBQs here!
View the original recipe here